So you've decided to set up a Recipient profile on whatimpact.com on behalf of your charity or social enterprise. Great! We're excited to have you on board. In order to make the most out of your new matchmaking profile, here is a step by step guide that will help to make your profile the best it can be.
1. Sign Up
Head to whatimpact.com and click the orange 'Sign In' button, then click 'Sign Up Now' and follow the instructions.
2. Fill in your Core Profile
Your core profile is the place to showcase what your organisation is all about. First, you need to claim your Charity Commission/Scottish Charity Regulator/ Companies House registration number. By claiming your registration, important financial data and organisation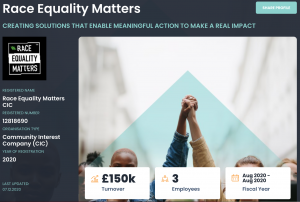 information will automatically fill. You can then detail your organisation's work, social mission, goals to make a difference, area of outreach, causes of interest and add your logo and key image. Next add testimonials from beneficiaries and past partners to promote the impact of your work and encourage transparency. When adding your testimonials, make sure you add a photo or your logo.
Although not all profile fields are mandatory, the more fields that are complete, the more impressive it looks.
2. How To Help
The 'How To Help' section is the place to detail what kind of support your charity or social enterprise is seeking. Let companies, grantmakers and members of the public know how they can support you. You can ask for monetary donations, list skilled volunteering opportunities or link the products or services you need. Add web links to your 'How To Help' section, directing your supporters to appropriate external sites to further explain how they can donate.
Once this section is complete, you're ready to post your project(s).
3. Projects
This bit's important. 'Projects' explain what particular projects and activities your charity or social enterprise needs resources for. This is the part of your profile that will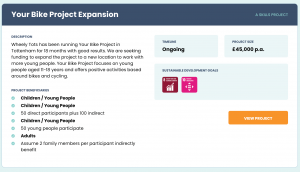 be picked up by the algorithm, matching you with companies and grantmakers. Be sure to be explicit about the
kind of help you want to receive and include as many key words as possible. Your projects can be one-off activities or ongoing. If your organisation isn't running a specific campaign, you can list your organisations overall activity and present it as a project.
Things to note
It is essential that you complete as much of your 'Core Profile' and 'How To Help' as you can. However, if any sections aren't applicable your organisation, you can either keep these sections blank or write 'N/A' to progress.
You must add at least one Project in order to match with support organisations. If you need any help with your projects, please email shona@whatimpact.com for assistance.
Remember to click 'Save all changes' at the bottom of the page before exiting and that you can edit your profile at any time.
Happy matchmaking! Head to the main site to set up your profile now.