Here at whatimpact, our mission is to create more impactful and meaningful partnerships between Supporter and Recipient organisations. In line with this mission, we are supportive of organisations that seek to uphold certain standards of responsibility. One such agency that we are proud to be partnered with is CSR-Accreditation. Read on to find out how they help to build accountability, reputation and credibility in business.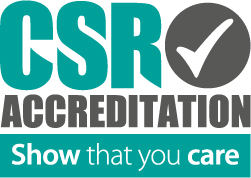 What is CSR-A?
CSR-A is a leading UK based company delivering the standard for social responsibility. It is now more
important than ever to show that we are doing everything we can to improve the world we live in for future generations, not only by reducing the negative impact we have on the environment, but by building a better and cohesive society. It's amazing what we are already doing that we don't talk about. CSR-A provides the perfect opportunity to tell your positive story.
What do you offer for companies?
Social Responsibility allows you to enrich the quality of lives for all by investing in social value as an essential part of an organisations culture. This provides purpose and impact and will ensure a sustainable and profitable business. It will help to build a better world for future generations by improving the environment and ensuring a cohesive community to live and work in.
It is clear to us that the future shape of business will be measured in social value as well as financial value and include a new level of responsible leadership.
CSR Accreditation is the perfect way to collate what you are already doing in regard to social responsibility. The application process helps you easily report on your organisations sustainable and community engagement and provides a simple template where you can record activity against the Four Pillars of environment, workplace, community and philanthropy.
Each Pillar is designed to help you measure, record and impact report on areas such as energy performance, recycling, staff engagement, health and wellbeing, community engagement and supporting local and national charities. Successful applications become CSR Accredited and receive our members pack. The CSR Accreditation Mark should be displayed on your website, in your reception and throughout your literature, proudly showing that your organisation has been independently recognised for its CSR endeavours.
Your application report subsequently becomes an invaluable CSR policy which you can use to show all your audiences that you are a caring and responsible organisation. The report should be used as a locator on a CSR 'roadmap' which will guide your organisation through policy development and continual improvement.
Sustainable and social purpose with profit – the future for successful businesses and organisations
It is clearly recognised that social responsibility gives competitive advantage through good corporate governance, effective execution of innovative environmental and social projects and ethical management. In order to maximise the potential of this advantage, it is essential for companies to smartly communicate their social responsibility efforts to ensure that consumers view them as driven by intrinsic (genuine) rather than extrinsic (profit led) motivations. CSR Accreditation encourages a culture of sustainable and social purpose which differentiates applicants in tendering opportunities and also increases general business efficiency, productivity and profitability.
Your Return on Social Investment
A value driven organisation will deliver a sustainable profit. Social responsibility has many advantages that can apply to any organisation, regardless of size or sector. Good policy improves a company's public image and relationship with consumers. Customers want to trust organisations they engage with. Employees want to work for values-driven employers and investors want to know that a company is addressing its ethical responsibility.
Some of the clear benefits of Social Responsibility include:
Positive business reputation
Builds customer engagement
Encourages employee engagement and team building
Improved productivity
Greater ability to attract talent and retain staff
More likely to attract Investment
Essential for tendering
PR and Marketing – positive story telling
Being socially responsible is not a cost to your profit, it is your profit.
---
To be kept up to date on all things CSR related, sign up to our newsletter by getting in touch.