Since 2018, whatCharity.com has been the UK's top charity search site. whatCharity's mission has been to democratise the third sector, giving an equal voice to all UK charities – regardless of size or type.
In order to keep meeting sector needs, whatCharity CEO Tiia Sammallahti took the decision to evolve. This is when whatimpact.com was born, an expanded platform that includes social enterprises, companies and grantmakers as well as charities, so that organisations can interact and share resources with ease.
Throughout the lifespan of whatCharity.com, we collected data from thousands of charities and researched their biggest obstacles to accessing funds.
What we've found is that there are more than enough resources, in the form of skills, goods and services to solve some of our most pressing issues and to really lend a helping hand to the organisations doing the beneficiary work on the ground. The issue is, these resources are often poorly distributed, or those holding the resources don't know where to begin when it comes to engaging with charities and other organisations focused on social impact.
We discovered that a lack of shared language between those seeking resources and those offering resources was a major barrier to generating social impact. Companies and charities have a hard time understanding each other – resources from companies often don't meet the needs of charities and CSR activities all too often exist as tick-boxing exercises, even when the desire to make a real difference is there. Grant-makers on the other hand, often have such rigid funding criteria that they exclude worthy charitable organisations and social enterprises.
whatimpact.com invites companies, grant-makers, social enterprises and charities to sign up to the site. Our goal is to make resource distribution democratic across all organisations that are invested in making a change as we work towards a more sustainable future. We have developed an algorithm to match organisations based on shared values and goals for the future. Does your organisation want to help eradicate homelessness in inne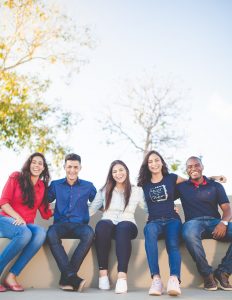 r-city London? Our technology can match you with strategically aligned charities and/or social enterprises that share the same mission and carry out the value-driven work "on the ground". The two-way marketplace lists charities and social enterprises as "Recipient" organisations and companies and grant-makers as "Supporter" organisations. Both Recipients and Supporters can list their needs or what they are offering (skills-based volunteers, money donations, goods, services and product donations) so that resources are shared between best matched organisations, for serious impact creation.
Giving should not be a linear transition of value from A-B, but a mutually beneficial process that benefits all parties involved. Most importantly, social impact work should be a process of co-creation and innovation. Current funding models use a top-down approach which obscures the voices of Recipient organisations – it's time for this to change. Forget lengthy application processes, due-diligence checks and poor quality partners. whatimpact displays all the information needed for working relationships between Recipients and Supporters, so making a difference can be fuss-free. Our profiles give all necessary due-diligence information, details about the missions and ethos of each organisation, their past projects and partners and our impact reporting tool means that you always know the impact you helped create.
If your organisation is seeking support or you have resources to give, select Sign Up at the top right of the page. For more information or if you've any questions, get in touch here.